Kieth Ward, Materialist reductionism, semiotic meaning and the mind-brain problem, trains and cakes.
Andrew Skegg recently posted a blog post called Is empiricism self-refuting? It was a little confusing as the issue in question was actually more about whether Materialism is self-refuting, and to further confuse things, the opening quote (which I suspect was taken from this wikipedia article – but we've all quoted people we haven't read) of
Professor Keith Ward was actually about Scientism being self-refuting. He seems to suggest that quantum physics shows materialism to be self-refuting, but Andrew doesn't quote the actual argument – without actually reading his argument on why this is, it's impossible to comment (see his lecture at the bottom of this post). The post then goes on more to look at whether things like consciousness and ideas and meaning can be reduced to physical constructs.
I was initially puzzled as Andrew appeared to oscillate between materialist reductionism and emergentism, but it soon became clear that he was mis-appropriating emergentist language to describe his reductionism Though, in fairness, as wikipedia puts it:
Reductionism does not preclude the existence of what might be called emergent phenomena, but it does imply the ability to understand those phenomena completely in terms of the processes from which they are composed. This reductionist understanding is very different from that usually implied by the term 'emergence', which typically intends that what emerges is more than the sum of the processes from which it emerges.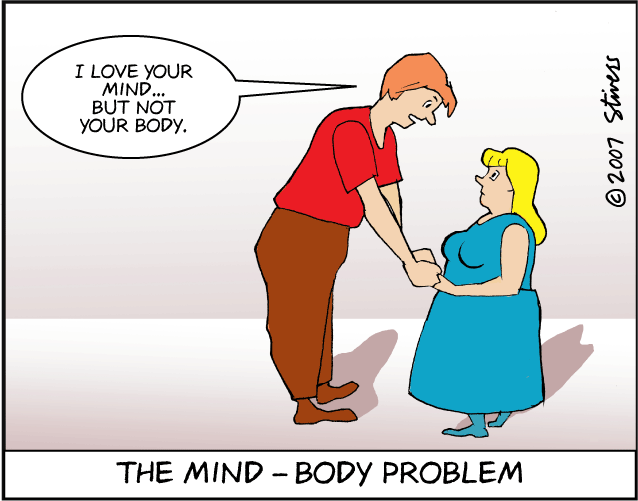 We've discussed the mind-brain problem previously, and we got into a little bit of a discussion once again, on the point of meaning and concepts and whether or not they can be reduced entirely to physical constructs. I'd recommend having a read of the discussion, as it's quite interesting. What was a little amusing is that we both thought each-other's illustrations demonstrated our own point.
Now, I had no plans to blog about it, except that Andrew wrote this:
Please take the time to think about your position and post an entry on your blog explaining the nature of meaning and exactly how it transcends the physical. Please be as clear as possible for simpletons like me.
Of course, Andrew is no simpleton, but is no doubt viewing things, as we all do, through the paradigm of prior assumptions.
If I could explain in detail the nature of meaning and it's emergent ('transcendent' is a term that might easily be misunderstood, which is why I have not used it) non-material layer I suspect I'd be up for some kind of prize. We must remember that there is much about this issue that we simply do not know, and recognise that there is still a huge debate in academic circles. The 'jury' is far from out. In fact, Ward, in that wiki argues that materialism as a philosophy is still a minority view amongst professional philosophers. Quite simply, there is no requirement that a full detailed explanation be given when one is simply noticing that something cannot be reduced to 'nothing but' the physical constructs and seems to be an emergent, non-material layer. To suggest that something must be fully explainable before we can comment about how it seems to be strikes me as fallacious. I don't need to explain the complete workings of emergent layers to note that they appear to be there, and that materialist reduction doesn't work and leaves a remainder.
Essentially our disagreement is that while Andrew thinks things like concepts and meaning can be reduced to nothing but physical constructs, I see them to be carriers of the meaning – the passenger on the train.
If you have a cake with the words 'Happy Birthday Jimmy' on the top, no amount of physics and chemistry will tell you about the semiotic meaning of those words. To try and reduce it to physical constructs leaves a remainder. The whole is greater than the sum of its parts. The physical construct of the icing and shapes of letters carry the meaning, but it cannot be reduced to that. Likewise, a concpet may origninate in one mind, somehow connected to biochemical constructs but it doesn't remain as that when transmitted /  transported (in the way a cake remains flour and sugar etc.). It may take the form of sound waves or digital code or ink on paper – the physical construct changes, yet the meaning remains. This indicates to me that the physical constructs simply carry the meaning, and that the meaning cannot be reduced to these constructs.
The passenger is not the train (he agrees) and the message is not the means of transmission.
Of course, if one is a materialist and assumes that the only things that exist are matter, energy space and time, then you are effectively forced to conclude that it has to be reduced to physical constructs – there's no room in such a worldview for non-material. But that's begging the question. I suspect too that such reductionism has particular deterministic implications, a point on which Andrew has mentioned plans to write about.
Professor John Lennox, himself a philosopher of science at Oxford University tells the story when a long-time committed reductionist recognised the inability of semiotic meaning to be reduced to physics and chemistry:
I'd be very interested to see what some of the philosophically minded (or is that brain-structured?) have to say on the issue, either here, or over at Andrew's blog. Clearly he and I are not going to find too much philosophical agreement here, but that's ok. It is an interesting discussion never-the-less.
If you have an hour to spare, I highly recommend this lecture by Prof. Ward, where he covers a number of the issues raised. In particular he points out that "nobody has come within miles of reducing personal explanation to physical explanation", and points out why materialism is a minority philosophy (and one he thinks will soon be as extinct as logical positivism):

Keith Ward: "Why There Almost Certainly Is a God: Doubting Dawkins from Metanexus Institute on Vimeo.